CALL 911 for all Fire, Smoke Investigations and Life Threatening Emergencies
REVERSE 911: Register Your Cell and VOIP Phones NOW!
The Crystal Park Evacuation Plan has been updated.
This is essential reading!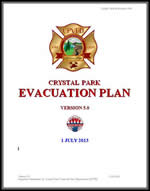 CPVFD TRAINING--Our Volunteers Never Let Up!
On Saturday, 20 April 2013, CPVFD Firefighters Steve Leander, Nick Gurin and Susi Hennessey participated in "Iron & Ladders" training at Green Mountain Falls (GMF) Fire Department where they learned forcible entry techniques.  Here Steve Leander and Susi Hennessey force open a locked door using a "set of irons".  We want to thank the GMF Fire Department for providing this training opportunity to CPVFD firefighters.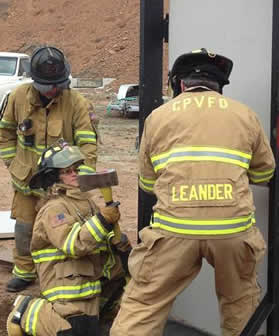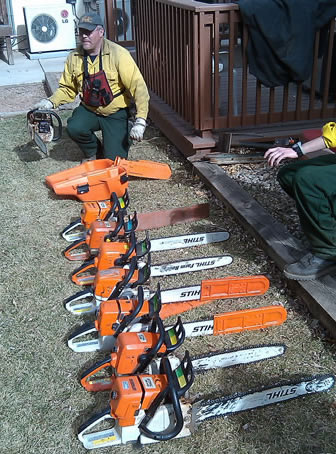 Steve Leander and Collin Powers completed S-212 Wildland Fire Chain Saws which emphasizes personal safety and the tactical application of chainsaws during a wildland fire. That is Steve after a long and dirty day of chainsawing.
9 NEWS ANNUAL HEALTH FAIR
April 20, 2013

CPVFD emergency medical technicians Floyd O'Neil and Andra Martin support the 9HealthFair in Manitou Springs.  The 9HealthFair promotes health awareness and encourages individuals to assume responsibility for their own health.  Crystal Park Fire Department and its Auxiliary, along with members of the Manitou Springs Fire Department, support this event every year.  Other volunteers included Chief John Hennessey, Engineer Mike Doughty and Auxiliary Caprice Temple.
WILDFIRE SEASON IS JUST AROUND THE CORNER:
TAKE ADVANTAGE OF THESE TIPS AND CRITICAL INFORMATION
FOR YOUR HOME MITIGATION EFFORTS HERE IN CRYSTAL PARK
And remember, if you have not done so already, please have a Crystal Park Fire Department Volunteer assess your home and property for wildland fire defensibility and mitigation. This is a free service for the asking. Contact: jhennessey@crystalparkvfd.org.
A new report has been released from an outside party that looks at the Waldo Canyon Fire and nearby residents' preparedness for it. This contains excellent lessons about what to watch for with your own home. Too often, its the little things that keep embers from igniting your home! To watch a companion video to this report, go to http://fireadapted.org/
YouTube video worth watching for Crystal Park residents:

TAX BENEFIT FOR WILDFIRE MITIGATION EXTENDED
The Colorado State Legislature has passed an extension of a tax deduction for wildfire mitigation, a bill sponsored by Sen. Ellen Roberts, R-Durango.
The state has offered a tax deduction for clearing brush and creating firebreaks around homes, but the deduction was scheduled to expire in July. House Bill 1012 extends the tax benefit through 2024. The bill allows homeowners to deduct half the cost of their wildfire mitigation work, up to $2,500, from their taxable income. Only about 1,600 Coloradans have taken advantage of the benefit in the last three years. This tax break is not as well known as it could be.
The information included in this paper represents industry standards and has been adjusted for the unique terrain, topography and forest characteristics in Crystal Park. Use this as a useful guide for fuel mitigation around your home. Use this time to get your house in order!!!
Waldo Canyon Final After Action Report Released April 3, 2013
This is an hour by hour and day by day description of the actions taken throughout the Waldo Canyon fire. Strengths are identified, with accompanying recommendations to address issues that emerged.